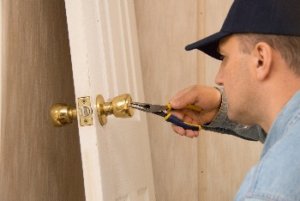 When we think of our Houston homes there is no way we will mention the word "home security" without making references to locks. These pieces of equipment are not just only involved in the physical security of our doors but also play a vital role in keeping our properties safe from a theft of any kind. Possessing the best front door locks can go a long way in assisting you to achieve a high level of protection as far as crime is concerned. Let's just say owning the best door lock confers some form of immunity on you against theft.
During the theft, the criminal is most likely to attack the part of your Houston home with the least possible security and thus obtaining the right kind of locks for your front door will definitely keep them away from that part of the house. Although 34% of burglars make use of the front door with the larger part going through the window, we believe owning the best locks for front door can repel their attacks. You can read our article on "how to make your windows burglar proof' for more information on securing your window.
To choose the best locks for the front doors of your Houston home the most important factor to be considered is the type of lock since it goes a long way in determining the level of convenience and security you are able to obtain. These front door locks include but are not limited to the following;
1. Smart Front Door locks
These types of locks are not too concerned with security as they are with convenience. So if you are interested in locks that you can control with your Smartphone we suggest you opt-in for these types of locks. Some of the features of these front door locks are;
When it comes to security, deadbolt locks are the best. This type of lock makes use of a bolt which extends into a bored hole in the door's frame. The bolt in this key can only be manipulated (extended or retracted) with the use of a key. A standard deadbolt lock makes consists of a rim cylinder as opposed to a mortise cylinder. These locks are known to provide the best resistance to forceful entries.
The features of this front door key include;
2 billion possible key combinations
Almost impossible to pick by luck or skill
Bump Key Proof
Made of hardened steel
Restricted key duplication
3. Euro Cylinder Front Door Locks
These are the most difficult of all the front door keys when it comes to installation. To replace this key, you may have to go through a lot of woodworking. Adequate care must be taken to purchase the right kind of cylinder for this front door key otherwise; it will be vulnerable to attacks. These keys are quite simple and are cost effective.
The major features of this key include;
Almost impossible to pick by luck or skill
Bump key proof
Extreme key control
Snap resistant
Anti-snap protection
Conclusion
While these may show the best types of front door keys for your Houston home, choosing the best totally depends on your taste and purpose. So hire a locksmith today. If you live in Houston then we would love to be your locksmith of choice. Contact us today!