High Security Locks Installation and Repair Services in Houston, TX
Peace of mind with Grade 1 high security locks for your business
Installation and Repair Services for Grade 1, High Security Locks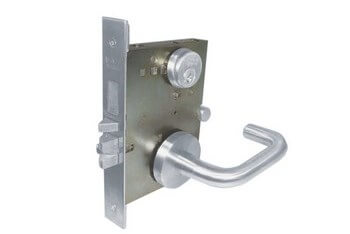 If you are a company doing business in Houston, TX and surrounding areas and you are in need of high security locks, there is only one company that you should be considering for the job. That company is 713 Locksmith Houston. We are a company that takes pride in the services we offer. We are family-owned and operated and we offer a fast and friendly, 24×7 locksmith service. Our expert technicians each have 5+ years experience. This allows us the opportunity to offer our clients a complete locksmith service that they can count on. That means we can install and repair your locks as well as offer other security needs. We are licensed, bonded, and insured, and additionally, boast a 30 min response time and up front pricing.
The Most Secure Lock For Your Business
One of the high security locks that we install and repair commonly is the high security Grade 1 lock. These locks are the strongest and most durable locks you can find. They are often referred to as heavy duty locks. They are generally used in areas of a business that have a lot of traffic going in and out. Because they are high security locks, exterior doors can also benefit from their use. In today's world, a Grade 1 lock is a must for any business. We are always hearing about businesses being broken into and vandalized in some way. By allowing one of 713 Locksmith Houston's commercial locksmiths to install these high security locks, you are ensuring that your business will be guarded against any vandalism or theft. Take advantage of our 24×7 locksmith service to have these locks installed at your convenience. It's your company and it deserves the best protection you can give it.
Why The Grade 1 lock Is So Secure
The features of the Grade 1 lock is what makes it the most secure around. It has anti-pick pins that keep even the most skilled lock picker from being able to pick this lock. It also contains reinforced plates with extra-long screws that makes this a strong lock that will take a thief a lot of extra effort to break into. Lastly, the extra-long bolts in this lock make it almost impossible for someone to take it apart. The security features of this lock will stop any attempts at burglarizing your business.
We're There If Your Lock Needs Repair
As mentioned earlier, we don't just install Grade 1 locks, we also repair them. It doesn't matter if we installed the lock or not, we can fix it. If your Grade 1 lock stops working or you just can't get it locked or unlocked, give us a quick call and within 30 minutes, we'll have one of our mobile locksmiths at your business repairing your Grade 1 lock. We are available for Grade 1 lock repairs 24×7 so there is no need for you to wait for a certain time to call us. Your schedule is our schedule.
The Most Reputable Locksmith in Houston, TX
Now let's look at why your business should choose our business for your high security locks' installation and repairs. Besides all of the services that we have already mentioned, we also offer up front pricing and a variety of quality lock products at a price that you can afford. The 30 min response time that we mentioned earlier keeps you from having to wait for hours for a locksmith to show up. The fact that we have 24×7 locksmith service allows you to give us a call anytime you have an emergency and allows us to work around your schedule. Our complete locksmith service is always available to you – 7 days a week, 24 hours a day. We will also install and repair closed circuit televisions, access control systems, crash bars, and magnetic door locks.
Your business and its security are important to you. Don't put that security in the hands of just any company. Go with a company that has expert technicians, that is licensed, bonded, and insured, and that offers the best when it comes to high security locks. The company you want taking care of that security in Houston, TX and surrounding areas is 713 Locksmith Houston. Feel free to contact us over the phone or by filling out a request for service form online.