Ignition Switch Repair and Replacement for Houston, TX Drivers
Faulty ignition switches can be dangerous so get them repaired/replaced ASAP
713 Locksmith Houston is the Right Company for the Job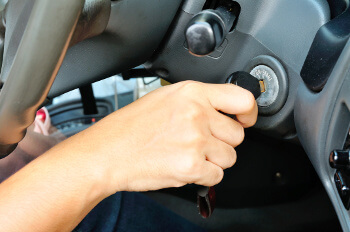 Do you need help with your ignition switch repair or ignition replacement? If you live in Houston, TX and surrounding areas, then we are just the company you're looking for. Trying to tackle a job like this isn't easy. The steering wheel has to be taken off and sometimes, electronic components have to be removed just to get to the ignition switch. It has to be done perfectly or you can end up with serious ignition problems, and your vehicle won't start.
Some vehicle makes and models have lock cylinders that are so highly advanced,that the ignition switch has to be recoded into your ignition system after it is installed or your vehicle won't start. If the ignition's lock cylinder is damaged during installation, it won't work at all.
Some people make the mistake of trying to look up information on how to do their own ignition switch repair, but specialized tools are needed for work like this, and a lot can be damaged if it isn't done right. It is best to leave work like this to the professionals at 713 Locksmith Houston.
We have 5+ years of experience in complete locksmith service, and we are licensed, bonded, and insured. With our upfront pricing, we can let you know the cost before we begin any work. When you want your car ignition fixed right, call 713 Locksmith Houston. We offer ignition switch repair services to Houston, TX and surrounding areas 24×7.
Ignition Switch Repair and Ignition Replacement Services
It is a big inconvenience to have a vehicle with a bad ignition switch. It usually won't start and you're frustrated. We can get your vehicle up and running fast. Years ago, vehicles were really simple to fix because they contained mechanical lock cylinder switches tied to the body switch, which activated the key switch to the starter. Now, new vehicle models that are infused with electronic circuitry are highly complicated to repair without using computer driven diagnostic repair services. The ignition switch is tedious to work on because of this. The cost of replacing expensive electronic parts that could be damaged by doing your own ignition switch repair is significant. Car dealers or mechanics charge ridiculous rates for work like this. We will never overcharge you, and our prices are fair.
Having a faulty ignition switch go out while someone is driving can also be deadly. Serious car accidents can occur if this happens. The faulty ignition switch will turn the vehicle off instantly, and if that happens while a person is driving, other vehicles might not be able to stop in time, causing a multi-car pile up.
The ignition switch is so important that getting it checked regularly should be part of your routine preventative maintenance. We want our customers to be safe, so please schedule an appointment with us to have your ignition switch checked today.
Call Now!
Our expert technicians at 713 Locksmith Houston are on call everyday. We offer fast and friendly, 24×7 locksmith service, and our mobile locksmiths have a speedy response time within Houston, TX. We also have up front pricing that our customers love because there is no guessing game when it comes to cost. The price we give you is what you will pay. Some companies try to add in extra costs at the end, but we will never do that to you.
Our complete locksmith service includes other automotive locksmith work for all types of foreign and domestic vehicles. If it has a lock to it, we can fix it or get you a new one if it is beyond repair. If you get locked out of your car or lose the keys to your car, just give us a call. Our expert technicians that can get you a car key replacement or provide car lockout assistance promptly. Our service is trustworthy, reliable, and fast. We can be there when you need us most so there is no waiting for hours on end.
Our speedyute response time is really important to customers locked out of their vehicles late at night. Call us now to set up an appointment to have us repair or replace your ignition switch or for any other auto locksmith needs that you might have.