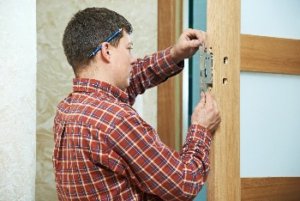 If you are a business owner, you know how essential the physical security of your business is. Whether it is the security of your office, or retail business or an industrial unit; keeping your investment – not only money, but your efforts and your time; needs to be kept safe. And who will understand this better than a professional Houston locksmith?
In Houston, commercial locksmith services are our expertise. As a business owner, it is very important for you to have a trust-able, experienced, insured and licensed partner like us, to take up the security needs of your facility. We are available 24/7 to attend to your requirements and answer your questions.
What a commercial Locksmith in Houston does?
Lock Installations: Business owners in Houston TX trust us to install and repair all kinds of locks – cylinder locks, deadbolts, mortise locks etc. We are specialized to handle any lock even it has not been installed by us.
Office Lockouts: In Houston TX, we are there for you in an emergency of office lockout. If you have lost your keys and locked yourself out of the facility, it does not mean you will lose the complete day of business. We will come in immediately to help out.
Lock replacements: If you have lost the office keys or moved into a new office building and cannot find the keys to certain locks, we can come and rekey your locks. Just in case we cannot, and if they need to be replaced, we will replace the locks, within no time.
Panic bars: We can install panic bars for your doors, if needed. We meet all necessary building codes and zoning laws while creating your panic bars. Usually panic bars are installed in schools so that people can exit even if the doors are locked.
Master key creation: Handling 20 to 30 keys can be tiresome If you own a hotel or you are landlord with multiple property in Houston. The bunch of keys keep juggling annoyingly in your pocket. Instead, we can install a locking system for which you will have one master key that will open all locks.
High-tech locks: If you are one of those who keeps losing keys constantly, then we can design a key free lock system for you, using biometrics or keypad entry as keys for the office.
Access control systems: Many offices, research centers and factories have area restricted where only authorized personal can go in. Commercial Locksmiths of Houston TX will create an access control system through biometrics or keypad system or magnetic key card to restrict the control of unauthorized personnel. This can be integrated with your regular access system of the company.
Automatic door closers: In the summer heat of Houston, automatic door closers will save a great deal of energy. They also keep dirt from entering the complex. We can install and repair automatic door closers.
Video surveillance: Our professional team is will come in, check the premises for best locations for CCTV cameras and set up your video surveillance system.
We go beyond business, we stand as your security partners!
If you need superior commercial locksmith services in Houston Texas, you need to call us. No matter what your security needs are, we have a solution – that too within your budget. We carry supplies to all locations when needed to avoid delays in our services. Call us today, and our technicians will check out your facility if needed, give you upfront and honest opinion to let make an informed choice.