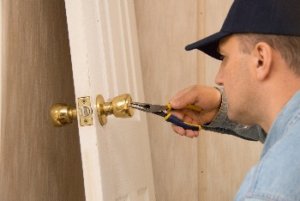 Since the world now realizes the advantages of deadbolt locks, their demand has generally increased and to respond to this increase in demand, lock manufacturing companies have been churning out different deadbolt locks. After carefully checking the features of most of the deadbolt locks launched in 2018, five of them were selected because of their superior features.
The selected five deadbolt locks have been outlined right below.
1. August smart Lock
This lock allows users to replace only the inside portion of the deadbolt so that you can change it but still maintain the same key. It has an automatic lock and unlock feature which makes it easy to lock and unlock it. You will appreciate this feature more when you approach the door with both hands full.
In addition, it has a door sense module that alerts you when you mistakenly leave your door open. Like all the latest locks, it comes with its app that is compatible with both iOS and Android devices. The most fascinating feature of the lock is that you can monitor it remotely. Although it works with both doorbell camera and keypad, they don't come with it because they are optional.
2. Schlage Connect Touchscreen Deadbolt
This deadbolt lock has a built in alarm system that wards intruders off. Its alarm goes off when an intruder tries to force his way in. It is also known for having the highest security rating. Its touch screen is not only smudge resistant, it is also fingerprint resistant. While the lock does not come with its app, it can be connected to smart home hub to control it. With the smart home hub connected, you can control it remotely.
3. Schlage Sense Smart Deadbolt
The distinctive feature of this lock is its being friendly with Siri. With this lock, you can open your front door with Siri although it does not support other smart home hubs. It also has a high security rating. And when an intruder tries to break in, the locks in-built alarm will go off.
4. Yale Real Living Key Free Touchscreen Deadbolt T1L
Would you like the idea of opening and locking your door without a key? This lock should be your best bet. The major benefit of keyless locks is that you can't encounter a lockout since you don't need a key.
Since it does not have a key slot, burglars won't be able to pick the lock. Although it does not have a standalone app, it can be connected to several different smart home systems. It has a little drawback though. It runs on batteries and the batteries can run down. However, when this happens, you can connect a 9-volt battery temporarily before you change the battery.
5. Kwikset Kevo Smart Lock
This is another keyless smart lock with some sophisticated features. It uses both Bluetooth and Radio Frequency Identification (RFID) technology. This gives users the options of either unlocking their doors with smart devices or with keyfob that come with the lock system. This lock also works with Nest devices.
In conclusion, apart from these five, there are several other fantastic deadbolt locks launched in 2018 and their quality is directly related to their cost. If you want the best, you have to bear the cost. Just be just to speak with a locksmith first so that you will know that you are making the best choice.